What a better way to enter 2013 than a retrospective of the year just past. Over the course of 2012 I managed to make it to the cinema around 50 times, and while the year took a while to give us anything really substantial, it ended a year on par with its predecessors, perhaps even better within its five top films, all of which I believe are certified classics.
Undoubtedly it is the superheroes that have had the biggest, at least in financial terms, success this year. With Spidey, Bats and that whole Marvel lot all bringing in the dollars across the summer. Yet none of them will find a place on my list for the year's best. Away from the convoluted mess of The Dark Knight Rises and plodding simple-mindedness The Avengers (Assemble) the genre did bring us one of the best surprises this year in Chronicle. Josh Tanks allegory of teenage angst proves to be the most human and straight up entertaining addition to the world of super heroes since Spiderman 2.
Disappointments came in from the indie scene too with Beasts of the Southern Wild, which bewitched critics in Cannes with its rustic charms and babbling miniature protagonist but proved to be a forced and rather hollow look at a naturalist lifestyle. The biggest offender however came right at the end in Ang Lee's Life of Pi, mainstream audiences may be dazzled by the trippy aesthetics of pop-spiritualist ideals attached to some solid survival adventure film making but I found it to be a tacky, hollow and over-composed waste of time.
On a positive note this year was a great triumph for British cinema, two of which feature on my list of the year's best. The return of Hammer horror is bound to warm the hearts of many, even if The Women in Black was a middling horror film, but its success at the box office means they're likely to get another shot. Speaking of success the wonderful return of James Bond in Sam Mendes' Skyfall just recently passed the $1 billion mark worldwide.
Still had if you've found this year to be not so stimulating there is always the 'stay at home' option, so while I'm on the subject I'd like to name The Masters of Cinema release of The Passion of Joan of Arc my Blu Ray of the year. They have been continuously fantastic as the year has gone on and this beautiful release is stacked with content and alternate version, a complete must for any serious film fans.
Okay, I've said my piece, let's move onto the list.
[Note] - At the time of writing, this list may be subjected to change, there are a number of omissions that I would like to have seen before making this list, but alas it wasn't to be.
The Top 10 films of 2012
10. The Grey - (USA, Dir. Joe Carnahan)
A victim of marketing and reputation, Carnahan's film about a group of plane crash survivors, led by Liam Neeson, attempting to make their way through the Alaskan woodlands, as they are pursued by the elements and a pack of ravenous wolves is less Taken With Wolves as the trailer would suggest, and more an existentialist drama about coming to terms with death that has more in common with early day Herzog than anything else. The numerous archetype characters become symbolic of the individual elements in one's own existence, gradually stripped until we are left with nothing but the essence of life itself. Neeson is a terrific as the exhausted Ottway, a disillusioned man with nothing but life to live for, given the recent death of Neeson's own wife in a skiing accident, this performance looks to be something of a personal catharsis by the way in which he carries himself. It isn't without its faults, most notably the dodgy CGI wolves that push the boundaries of believability into the goofy. But the gorgeous visuals and no-holds-barred approach to film making makes The Grey something of a unique, massively engaging and surprisingly effective genre piece.
9. Sightseers - (UK, Dir. Ben Wheatley)
Ben Wheatley's third feature allows his trademark black humour to take centre stage in his caravan based satire of middle class discontent. We follow Tina, Chris and kidnapped dog Poppy on a self-proclaimed erotic odyssey around some of England's most, well, English tourist attractions. I stated in my review, Wheatley taps into a primal urge that runs through the core of Britain; here it manifests itself as an extension of alpha male domination unleashed by the lucid beauty of the mud-stained countryside. It is the surprisingly human nature of the film's main relationship that places it on the list of the year's best. Tina and Chris (played and written by Alice Lowe and Steve Oram) are built upon the combination of the lovers-on-the-run cinematic ideal and childhood memories of the family holidays, the grizzly killings and dark humour are played against sensual passion and even sombre tenderness.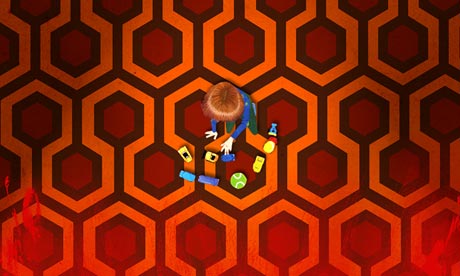 8. Room 237 - (USA, Dir. Rodney Ascher)
A film Mark Kermode, rather accurately describes as 'Or How I Learned to Stop Worrying and Love Film Studies.' Ascher's documentary works as part introduction, exploration and criticism of film theory presented as a stylish, self-aware mystery that could have a limitless number of answers or none at all. That mystery of course is Stanley Kubrick's The Shining. Reigning in the world's most leading experts in Shining-analysis, there is enough conviction in the delivery to make even the most ridiculous theories have a degree of plausibility, yet the film isn't short on chills and laughs. Through all this there is a sense of what we may find in The Shining, in any film, in anything is just a reflection of our own beliefs and interests, therefore elevating this meta-documentary from entertaining bar fodder to fascinating dissection of a critics role.
7. Tabu - (Portugal, Dir. Miguel Gomes)
Cinema becomes a memory, and memory becomes cinema in Miquel Gomes terrific gem. Opening in a slow but measured depiction of modern Portugal, we follow a middle-aged woman called Pilar encased in her loneliness. She deflects her own problems with interest in her elderly neighbor, Aurora who is in early stages of dementia. Yet when the old woman dies, her past life on the plains of Africa is revealed and we are taken on a richly cinematic adventure. The second half of the film takes place as a film between the silent and the sound era. Shot beautifully on 16mm stock and dryly narrated by Aurora's aged lover, it becomes an exploration of the past passions and cultural boundaries of a bygone era. Playful, erotic and mysterious this is film to treasure and behold.
6. Berberian Sound Studio - (UK, Dir. Peter Strickland)
Wearing its influences on its sleeve Berberian Sound Studio is a cold and darkly funny deconstruction of horror film making as well as a send up to one of its most culturally significant sub-genres. Toby Jones plays a reclusive, droopy sound technician called in to work on the Gallio-esque The Equestrian Vortex. Trapped within multiple layers of Kafka based bureaucracy and the exploitative nature of the films narrative begins to expand into the studio itself, Jones shrinks into his work, becoming increasingly obsessed. There is a disorientating lack of time in this film as Jones loses himself into the Vortex. Strickland offers up a criticism of the film maker as well as a warning to the audience about the dangers of exposing one's self to the disturbing nature of horror films and the increasingly machine driven art world.
5. Cosmopolis - (USA, Dir. David Cronenberg)
David Cronenberg's returns to his psycho-sexual, psycho-technological routes with his adaption of Don DeLillo's novel. In what might be this year's most important film Robert Pattinson plays (wonderfully) an elusive billionaire traveling through the city in his soundproof limo in order to get a haircut. Along the way he will meet various people and dissect the increasingly technological economy and by extension, existence. It doesn't sound as fascinating or engaging as it is. Howard Shore's astonishingly chilly techno soundtrack underscores the film's journey around the computerized labyrinth city, whilst the expansive limo becomes a spatial anti-reality inhabited by the cast. Fascinating, cool and hypnotic Cosmopolis is a difficult but powerful masterpiece.
4. Holy Motors - (France, Dir. Leos Carax)
The other 'limo based epic' of 2012, this time it is the French 'son of film' Leos Carax who is behind the wheel the destination of course, is the cinema. Dennis Lavant gives the greatest, most versatile performance of the year as Oscar, a man being driven through Paris to several different... appointments. Just what is Holy Motors is something I'm still working on myself, a running commentary on the state of cinema? An ode to the art of acting? An evaluation of the ever increasing online based society? All of the above? I don't really know if it matters, the true importance here is that Carax manages to craft an insanity based odyssey that is completely unique, darkly funny and infinitely puzzling.
3. Amour - (France, Austria, Dir. Michael Haneke)
Haneke's films have always looked to undermine his audience and even his characters with regards to ones expectations; apocalypse's come about without cataclysm, mysteries are often left unexplained and suspense refuses catharsis. Yet this is not the case with Amour, which is a love story in the truest and most difficult sense. It follows his patented bourgeoisie couple, Anne and Georges, in retirement. They live in a spacious flat and spend their days going to concerts and being visited by their daughter. Only when Anne suffers a stroke is their relationship tested to the extreme. Some have pointed to Amour as evidence to a compassionate side to Haneke's icy professionalism that frequently results in an acute detachment that many find difficult to endure. It isn't compassion I see within here, but insecurity. Haneke treats death with the same calculated gaze that he would the glamorization of violence or social responsibility, but he flinches. He treats his characters with an uncertain dignity at an age when dignity leaves us, refusing to exploit the deterioration of Anne's condition in order to squeeze sympathy from his audience. The climax is a moment of devastating desperation; it is the unavoidable price we pay to love.
2. The Turin Horse - (Hungary, Dir. Bela Tarr)
The final film of Hungarian auteur Bela Tarr, one could easily dismiss it as not for everyone (a true but shallow claim that I've come across in a number of reviews) there is certainly something for everyone here. Opening with a quote about Nietzsche's defence of a horse [in Turin] being whipped by its owner, the tone is set for Tarr's apocalyptic meditation on suffering. Shot in staggering black and white, it is composed of a mere 30 takes (it is over 140 minutes long) charting the existence of a father and daughter on their farm as fierce winds surround the house. If not the end of the world, it is the end of humanity through gradual erosion of our human nature. A staggering seven minute monologue that the film is centred on opens up Tarr's world for the audience only for a brief moment before it is closed down. Endurance and survival they are not the same as life in Tarr's bleak epic, but if the end is coming I'd imagine that won't matter. After all, what are we but a light fading slowly out of existence into the overcoming darkness?
1. The Master - (USA, Dir. Paul Thomas Anderson)
Paul Thomas Anderson's The Master is a landmark film. Complex, unyielding and distinct it offers up a view of Post-War depiction of a damaged American and those who would exploit it. As redundant a comment it is to make, The Master is a modern companion to Orson Welle's Citizen Kane, in both subject and quality. Boasting three astonishing performances from it follows the relationship between World War II veteran Freddie Quell and Lancaster Dodd (based on Scientology founder L. Ron. Hubbard,) as the latter tries to demonstrate his self-help 'processing' to fix the damaged and potentially dangerous Quell. Anderson challenges us on every cinematic level, from the off kilter score by Jonny Greenwood, to his refusal to offer up the expansive landscape shots we expect from the 65mm format he shot on. His lens is a looking glass through the past where he discovers a repeating pattern woven into human nature throughout time. The Master is an unmatched, ever fascinating piece of cinema that will be studied and evaluated over the course the next hundreds of years, from one of the most enigmatic and talented masters.
So that's it for my top 10 films of 2012, I hope you enjoyed the list and here's to hoping we have another fantastic year ahead.